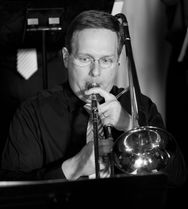 Tom Kamp is a trombonist, improviser, teacher, introvert, clinician, author, composer, and arranger.  He works as a band director for the Berkeley Heights  (NJ) Public Schools. Tom created and taught the "Exploring Music and Technology" class at Governor Livingston High School in Berkeley Heights, and has also taught general music, elementary band, and middle school band. Tom has taught privately for over 30 years, teaching all levels and specializing in low brass and jazz improvisation.
Tom's credo is "No Rules, No Fear Jazz," helping musicians, music educators, and students relax have a good time with jazz improvisation.
Tom's book Rhythm First! A Beginner's Guide to Jazz Improvisation was published in January 2016 by Sher Music Co. He has presented clinics and workshops on the concepts from his book to music educators in NJ, NY, DC, ME, and PA.
As a trombonist, Tom Kamp has performed, toured and recorded with the St. Louis Symphony Orchestra and was a featured soloist with the Jordan Thomas Orchestra at the NJ JazzFest in Madison, NJ. He has performed with the NJ Symphony, NJ Pops Orchestra, Papermill Playhouse Orchestra, the New Philharmonic, and many other groups in the NY/NJ area.
Tom is the founder, leader, trombonist, and chief arranger and composer for the ACME BRASS CO., an eight-piece brass with rhythm section group. Tom produced ACME BRASS's first CD, entitled "X-MAS X-ING" which was released in 2004.
Tom has played in Carnegie Hall, the Hollywood Bowl, and Birdland jazz club in NYC. Other career highlights include playing with the Woody Herman Orchestra in the Poplar Bluff, Missouri H.S. Auditorium during a mid-west blanketing blizzard, backing the Temptations and the Four Tops for a hardware convention and playing on the beach at the Atlantic Ocean with a symphony orchestra conducted by a priest in combat fatigues. (It's a Jersey thing.)